Experience service like never before, we will welcome homeowners looking to remodel their home, interior designs firms who need to show their clients a selection of finishes and builders who desire a convenient, one stop location for their clients to make their interior choices.
Studio Home Is A Design Center
Like No Other In The Puget Sound
Studio Home is a one-of-a-kind design center located in the heart of University Place. Our showroom caters to homeowners, builders and designers alike. With over 25 years of industry experience and a wide variety of exclusive products and services, we're passionate about assisting our customers in finding their personal style and the finishes that make their home unique!
Our Flooring Gallery on the first floor showcases hardwood, carpet and custom rugs, luxury vinyl tile and plank, Marmoleum, and resilient. The second floor features custom cabinetry, tile and stone, quartz and natural stone, as well as the Design Resource Center. We also offer a variety of bathroom vanities, plumbing fixtures, cabinet hardware, stacked stone, and so much more!
We welcome you to visit our showroom and experience the unique products and designer services to help reinvent your home.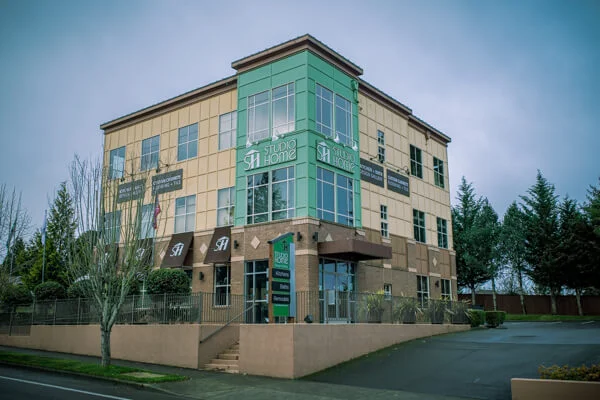 KITCHEN & BATH DESIGN. Let Studio Home work with you to design a room that maximizes and compliments your living space and your lifestyle.
MATERIAL SELECTION. Simplify the process of choosing your interior finish products by collaborating with Studio Home. We manage the ordering process and delivery coordination.
PROJECT COORDINATION. Work with us from start to finish, and we will get your project completed on schedule & within your budget.
– Eva
"Thank you for making my kitchen beautiful & saving my sanity!"
– Sarah
Thank you for all of your assistance with my carpet selection and purchase. It is installed and looks lovely. I greatly appreciate your help and patience throughout the entire process."
– Sarah
Thank you for all of your assistance with my carpet selection and purchase. It is installed and looks lovely. I greatly appreciate your help and patience throughout the entire process."
– Mallory
I wanted to thank you so much for your assistance with our Caesarstone quartz bench and shower curb. The whole process was so easy. I appreciate your quick responses throughout the whole thing and taking the time to look into things when I was uncertain. The bench and the curb look absolutely amazing! I LOVE the way it all turned out. Just wanted to express my sincere gratitude 🙂 Have a lovely afternoon!"
– Eric
"Just wanted to let you know the install went well. The client is in love with the Floorte tile!"
– Bette
"The Carpet install was great! The homeowners were totally pleased and are excited to see the rest of the home when it is finished!"
– Eric
"My wife and I would like to share our appreciation regarding the attention to detail with our master bathroom. It looks awesome!"
– Anne
"The custom rug and pad arrived Friday, it's perfect. The pad makes this rug very comfy. Thanks for your assistance!"
– Jennifer
" The floor looks beautiful. I love It!"
– Dale
"It looks great! I love the sink and faucets and the granite top fit perfectly on the cabinet. We are so pleased with the outcome of this one, that we are going to do the half bath next year and after that, the half bath in the daylight basement."
– Kirk (Remodeler)
"When we get another job, we will send your way. Always a pleasure."
– Susan
"Kayla helped us with the selection of materials for 2 bathroom remodels. She had great ideas and suggestions. Super professional and responsive. Would highly recommend Studio Home!"
– Christine
"Kari and her team at Studio Home have just completed three bathroom remodels for us. Having been through two kitchen remodels in the past, I was concerned about embarking on this process. Kari and Studio Home exceeded my expectations in every way. She brought a top notch team of workers, who always showed up on time and on the day they said they would. The work progressed at a great pace, and much quicker than I could have hoped. As I continue to revel in these new bathrooms, I am still pleased with every design choice Kari helped me make. We updated 1970's bathrooms without totally moving away from the overall look of the interior of the house, so everything blends in beautifully. Thank you to Kari and her team! It has been a joy to work with you all!"